A LITTLE BIT ABOUT MYSELF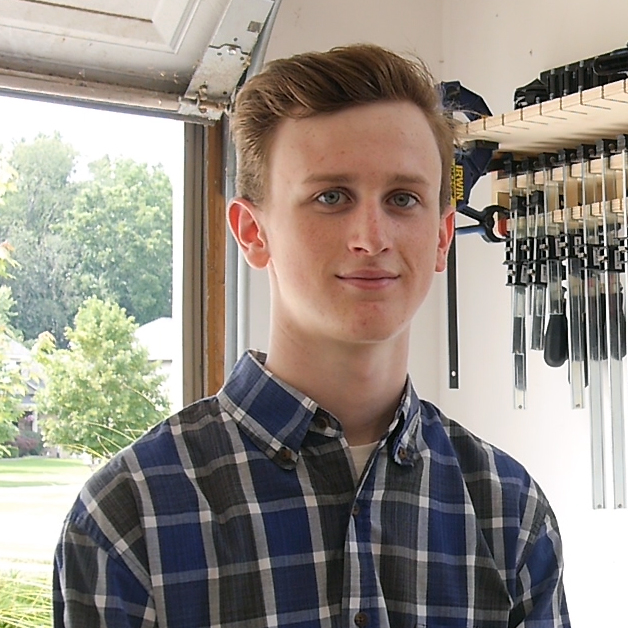 About Me
My name is Eric Lindberg and I'm a 25 year-old woodworker from Michigan. I grew up playing hockey and baseball in a small town. Even when the seasons were over, I'd still be playing street hockey with my friends or backyard baseball with all the neighbors.
When I was 12 years old, I began filming and editing my own videos. A lot of these videos included goofy special effects that I added in post or simple street hockey edits with all of my friends. I quickly decided that the rest of the world shouldn't be missing out on these videos, so I started up a YouTube Channel. After a couple years of posting videos, I only had a handful of views and even less subscribers to show for.
In 2012, I was heading into my freshman year of high school and decided I was going to take a wood shop class. This quickly became my favorite class to attend. I was taught the basic principals of woodworking and this really opened up my eyes to all the potential. I quickly became obsessed with it. I'd go home and watch all the woodworkers on YouTube at the time: Steve Ramsey, Steve Carmichael, The Wood Whisperer, etc. Through their videos I taught myself the different techniques and decided that I wanted to share my projects with others as well. So I combined my passion for videography and woodworking. In June of 2013, I posted my first project "How to Make a Baseball Bat Rack." This was the start of the Woodworking Nut.
Frequently Asked Questions
What is the first tool I should get if I am new to woodworking?
I would get a decent table saw. Table saws can be purchased fairly cheap for about $200-$300 for a basic one. My table saw is a little more expensive, it's the Delta 13-Amp 10-in Table Saw.
How did you get all of those tools? Did you buy them?
I worked as an umpire during the summers and slowly purchased the tools I needed. At first, I bought cheaper tools that could get the job done. Most of those tools were the brand Ryobi from Home Depot. Ryobi tools are great for newcomers because they are priced fairly cheap but work great. Today, I am still working my way up to better brand names like Delta, Ridgid, DeWalt, and other popular brands.
Can I commission you to make a project for me?
Sorry, but I just don't have the time. Making a weekly project takes up a lot of my time and if I made projects for people, then I wouldn't have time to make the show.
Do you take video requests?
Yes! I love hearing what viewers would like me to make. To submit a request, you can do so in the contact box located at the bottom of any page. However, please understand that I may only make certain projects that I feel will be a good addition to my show.